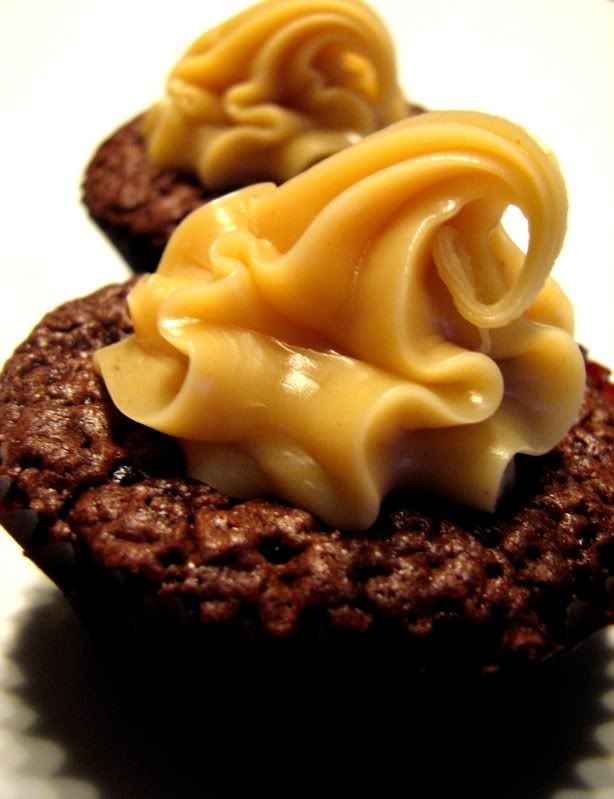 I had been meaning to convert my knockout mud cake recipe into some cupcakes for a long time. I had also wanted to try a caramel ganache. It didn't take much brainpower to put these two flavours together to form a deliciously rich chocolate/caramel cupcake.
The cupcakes are light in texture and have a deliciously chewy top layer (the best part of a mud cake in my opinion!)
Ganache purists will tell me off for calling my frosting concoction ganache. Ganache should only include cream and white, milk or dark chocolate. Well, caramel becomes an issue because you need to add something to the chocolate and cream to get your caramel flavour. I had a scout around on Google and found that some cake makers add Nestle Top n Fill (a favourite of mine) to their ganache. I didn't have any on hand so I added some muscavado sugar to the cream while it was simmering.
To ice these cupcakes I used 300g white chocolate, 2-3 tablespoons muscavado and 100ml thickened cream. I heated the cream and sugar until it was simmering, then slowly added the chocolate. I stirred the mixture until it was completely smooth and then popped it in the fridge for a few hours to harden.
When I removed it from the fridge it was quite firm so I popped it in the microwave in 10 second bursts until I had my desired consistency.
Voila!