I do apologise for my recent absence, but I visited Sydney for a few days and getting back into my blogging routine has been difficult. But fear not, for I am here and I'm armed with a copious amount of glorious cupcake pictures!
On Friday I trekked into the Sydney CBD for one thing, and one thing only...the famous cupcakes from
Cupcakes on Pitt.
This store has been noted on food blogs everywhere, and I made it a mission to visit the store at some point during my trip.
The store itself is tiny, with a couple of cramped tables inside and a couple of tables outside. There are racks and racks of cupcakes in a huge variety of flavours, so choosing your loot is difficult to say the least. There are just too my flavours and they all look amazing. I cannot fault the presentation of these cupcakes.
We tried their lemon meringue, chocolate brownie, peppermint, milk chocolate, cookies & cream, honeycomb, passionfruit and orange jaffa.
Unfortunately the taste did not live up to my expectations. Each of the 8 cupcakes my friend and I tasted were dry, not moist like we'd hoped. We were not impressed in the slightest. It appears that though much effort had gone into making these cupcake look fantastic, but not taste fantastic.
The shape of the cupcake was also very odd - it had a tiny stump and a large, round top (sort of like a muffin). They were fairly small in size (a little larger than a standard mini) and were $2 each.
I was disappointed that the only flavouring was in the icing. All of the cupcakes were comprised of a vanilla or chocolate cake, and then the buttercream or a chocolate decoration provided the flavour. For example, the only jaffa in the jaffa cupcake was the crushed jaffa lollies on top of the buttercream. Also, to me jaffa is a chocolate/orange combo. Using a vanilla cake for this particular cupcake made little sense to me.
Anyway, I digress. This tiny store does a roaring trade (it was quite cramped in there - full of hungry cupcake lovers!) however it has just spurred me on to create more fabulous cupcake flavours ;)
The following day I was whisked away to the Blue Mountains by my good friend Stace. We went to The Three Sisters, and of course we posed for a piccy...here is how NOT to take a self portrait haha! That's Stace on the left, and me on the right.
The picturesque mountain range is littered with tiny tourist villages. We drove through Katoomba, and I think I almost made Stace run off the road when I let out a (not so little) squeal. There it was...a cupcake shop!
Cupid's Cupcakes is situated in the main shopping precinct of Katoomba and it is a gorgeous little store. With plenty of room to sit (unlike Cupcakes on Pitt) it is the perfect place to share many delicious cupcakes and hot chocolates.
Cupid's offers a regular sized and mini sized version of each of their cupcakes. Stace and I opted to purchase six mini cupcakes with the intention of bagging whatever was left over for consumption at a later stage. How silly were were to expect that there would be any left for later. We polished off those little cuppycakes in less time than I'd like to admit!
So please allow me to gush while I tell you about how amazing these cupcakes were!
Chocolate cake with hazelnut ganache: though the ganache was not very hazelnutty, this cupcake was deliciously decadent. It was rich and moist and fabulous. Two thumbs up from Stace.
Passionfruit: the real passionfruit in the icing (as opposed to the flavouring used by Cupcakes on Pitt) made this cake absolutely divine. Stace says: "cupcake gooood...passionfruit gooood...all in all, goooood". I guess it was good then!
Caramel: with caramel buttercream on a vanilla cake, this cupcake was one of our favourites. My comment: "Oh. My. God". Stace's comment: "tastes like a Gaytime". The frosting was a teeny bit grainy but the flavour was amazing.
Lemon Meringue: easily the best cupcake of the day. The cake was light and fluffy, and the lemon curd was delightfully tangy. Both of us LOVED this cupcake. The presentation was cute, with little droplets of something unidentifiable carefully dotted down the side.
Cookies & Cream: the presentation of this cupcake was cute as cute can be! The frosting had been applied with a large star nozzle and was piled high, creating a frilly effect. The frosting to cake ratio on this cupcake was a little too much. This one didn't really impress us; Stace said "mmm, it's ok but nothing special". It was a little plain in flavour, but the cake was very soft.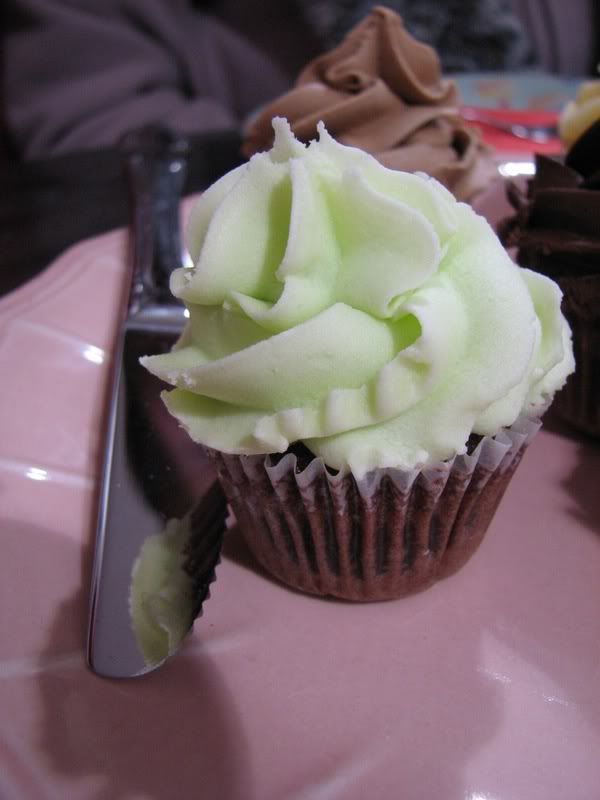 Choc Mint: this one was also ok. The icing was a bit grainy and much too sweet (though we had had a bit of a sugar overload by the time we made it to the mint cupcake, so this may have had something to do with it). The cake was deliciously fluffy and soft though.
The presentation of everything in this store was gorgeous. We were seated at a cute little wrought iron chairs and table set, and our hot chocolates were brought to us in teacups and saucers covered in cupcakes (cute!!) A chocolate covered coffee bean sat in the teaspoon.
All in all, this store beat Cupcakes on Pitt hands down. Though Cupcakes on Pitt has many more flavours to choose from, the country service, the room to move, the decor of the store and the amazing taste of the cupcakes makes Cupid's Cupcakes a must see place if you're stopping by Katoomba. The cupcakes are also very reasonably priced at $1.80 each for the mini ones.
We did pass The Cupcakery on the way back home, but due to me being slightly bitter that they beat me to that business name I did not want to stop there (grumble grumble).
So there you have it - my weekend of Sydney cupcake hunting! :)