One of my school friends Cassy asked me to do a cake for her mum's 50th birthday. Cassy was going all out - taking her mum and her mum's best friend to Brisbane as a surprise (her mum's family lives up there) and cooking her a beautiful meal. So of course a knockout cake was in order.
Cassy saw the cake I did for my friend Charlotte recently and told me she wanted something along the same lines but in purple.
I tweaked the design slightly; my new sugarcraft gun meant I could achieve perfect, long, thin sausages of fondant, so I used this to my advantage. I also used my new embossing plates to imprint a swirl pattern on the fondant topper.
The cake was dark chocolate mud, and was torted and crumb coated with smooth, silky raspberry buttercream. It was covered in purple fondant.
Because of the dimensions of the cake I had a little batter left over...which of course meant a mini cake for me! Well, me and my little sister.
This mud cake is so rich we couldn't even finish half a mini cake each. Mmmm. This little mud cake is torted with raspberry buttercream and smothered in dark chocolate ganache.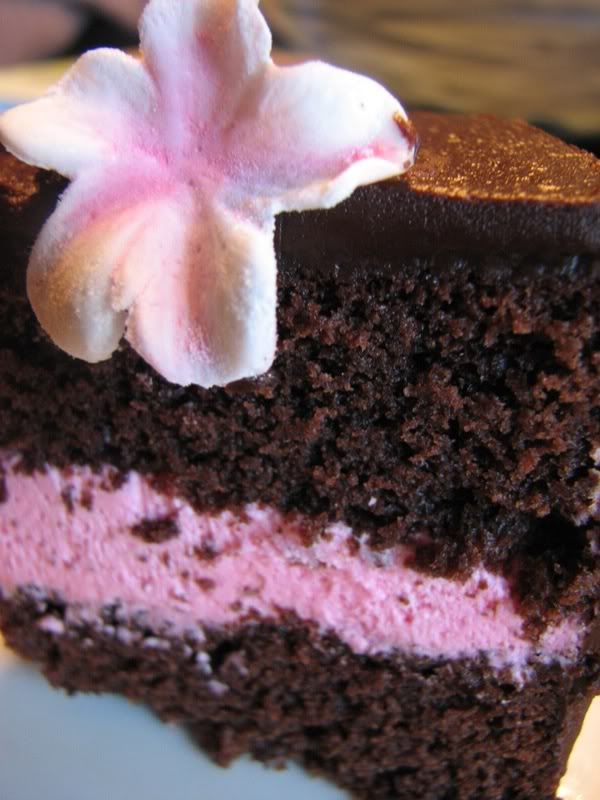 Anyway, I digress. Happy birthday Jan - I hope you had a wonderful day!