I had the pleasure of a surprise visit from my little sister this weekend. We visited the Prahran Market (we simply HAD to get some Crabapple cupcakes) and baked up a storm.
Here's what we made (and devoured)...
Individual apple & rhubarb pies with vanilla bean custard
My sister was horrified that I had never eaten rhubarb (to be honest, so was I!) so we made it our goal to make an apple and rhubarb combination. I decided to do individual pies as I find them much cuter. The only downside of the individual pies was that the fruit sat up so high that it was difficult to cover the fruit with the crumble. Anyway, I digress.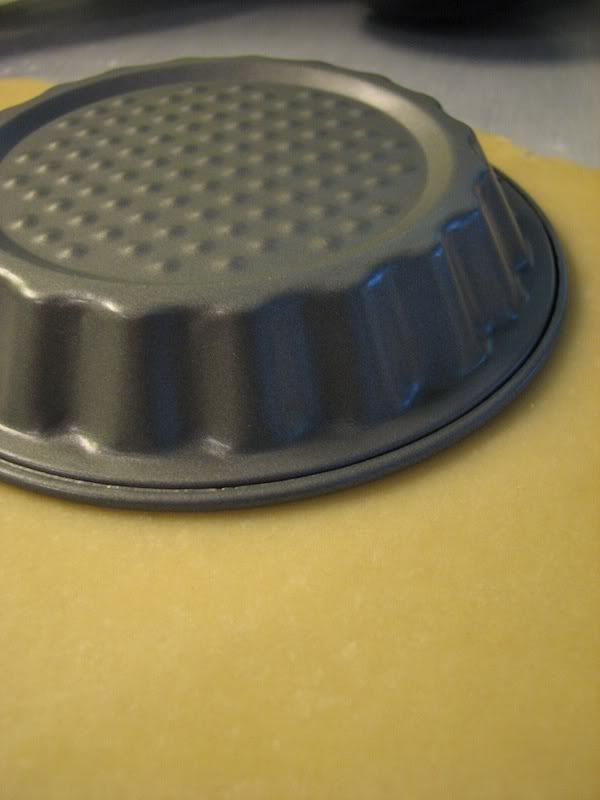 I used one of my small pie tins to cut rounds of the pastry to fit inside the tins.
The apple and rhubarb boiled away...
...until I was left with gorgeous pink coloured apple.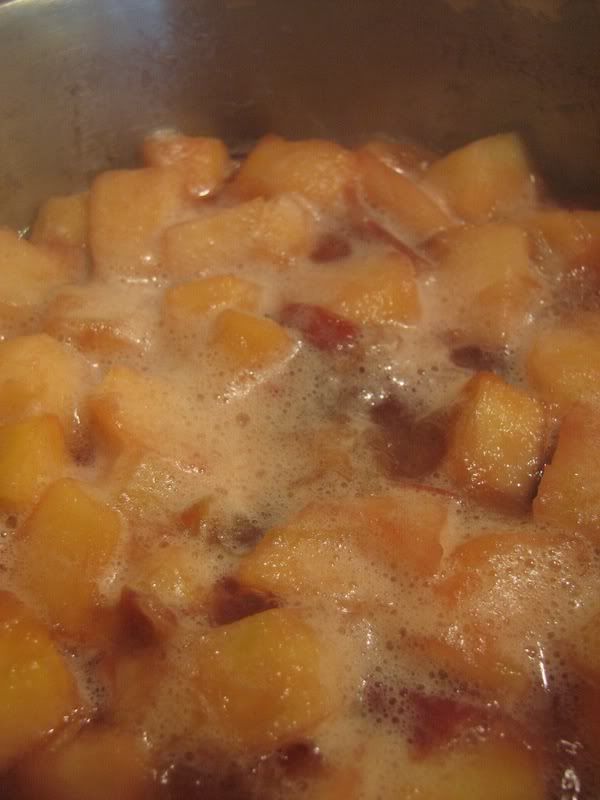 These tarts could have easily been devoured without the crumble, or could have been topped with pastry latticed across the fruit. They could have even been drizzled with a fruit coulis and eaten sans pastry/crumble.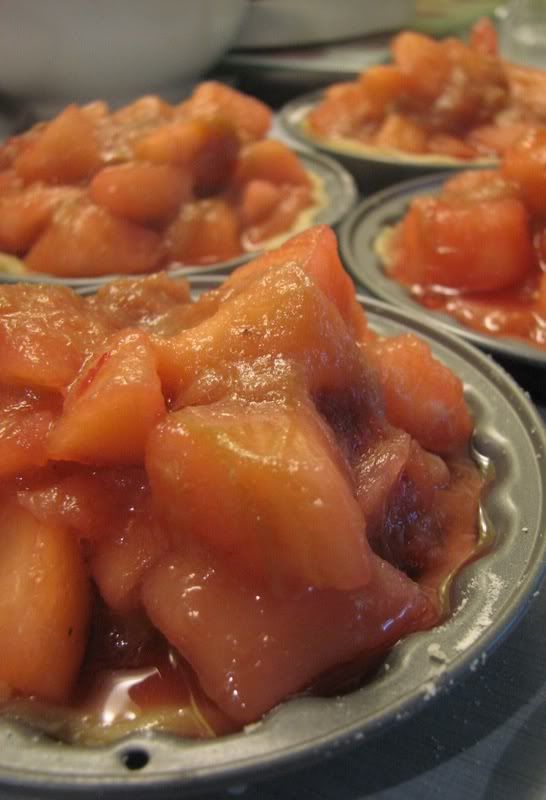 I borrowed a recipe for the crumble from
here
. The only change I made was adding a lot more rhubarb (I used a whole bunch - it boils down to nothing anyway so you may as well use it all up!) Also, if you're doing the individual pies like I did, you will only need about half the pastry. Just halve the quantities given in the original recipe.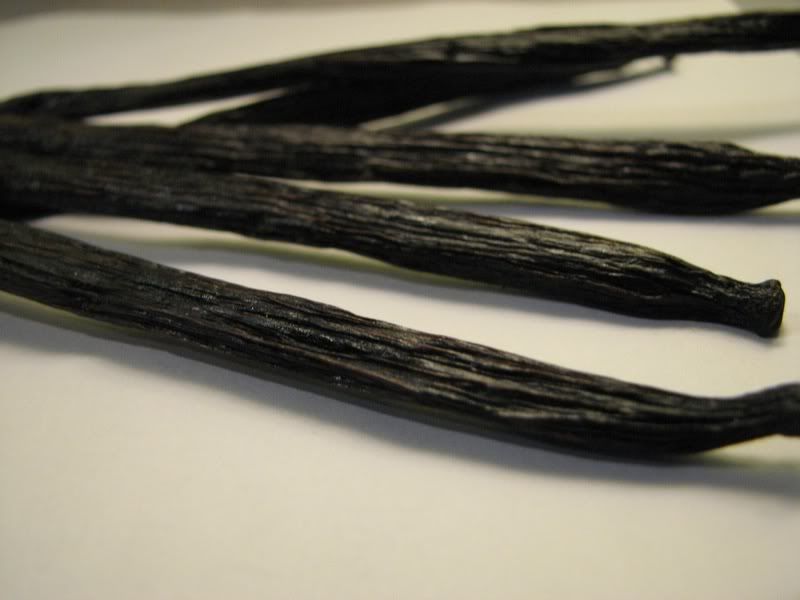 Vanilla Bean Custard
2 egg yolks
1/2 cup cream
1/2 cup milk
half a vanilla bean, seeds scraped
1 heaped teaspoon cornflour
2-3 tablespoons sugar

Heat cream, milk and vanilla pod and seeds in a small saucepan. Don't let it boil; just heat it gently for a few minutes. Remove vanilla pod. Whisk egg yolks, cornflour and sugar in a heatproof bowl. Continually whisking, slowly add the milk mixture to the egg mixture. Pour back into the saucepan and heat over low heat, whisking constantly, for about 5 minutes or until the custard thickens. Serve immediately if serving warm, or pop it in the fridge with cling wrap over it if serving cool.
Next on the menu was Mini Chocolate Pavlovas.
2 egg whites
Pinch of cream of tartar
1/2 cup caster sugar
1 tablespoon cocoa
Preheat oven to 150 degrees celsius (130 for fan forced). Whip egg whites and cream of tartar until soft peaks form. Add sugar one spoon at a time. Your mixture should be glossy and smooth. Add cocoa and whip until combined.
Line a tray with non stick baking paper and spoon out four circular meringues (you can draw circles if you're not confident in getting perfectly uniform shapes). Make a small well in the middle of each meringue.
Bake for 30 minutes, then reduce oven temperature to 120 degrees celsius (100 degrees fan forced) and bake for another 30 minutes. When done baking, leave the oven door open slightly (try propping it open with a tea towel or wooden spoon) and allow the meringues to cool completely before removing them from the oven.
I won't lie; these were simply divine. We topped ours with gently whipped cream (not to peaks) and strawberries, banana and passionfruit. Drool.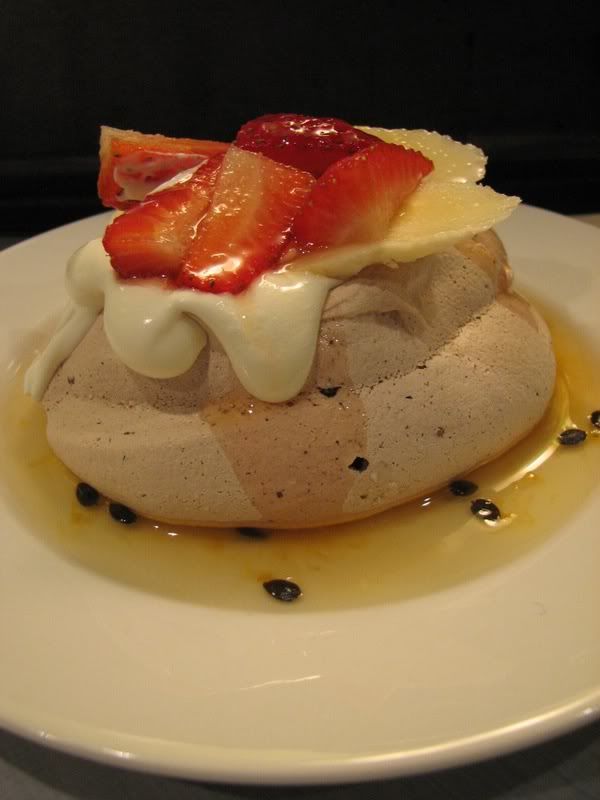 And now I won't be eating anything for another week.