I was craving a warming, comforting dessert that was capable of letting me forget about the freezing temperatures outdoors. Melbourne has been struck by two days of solid rain, and while I cannot complain in the slightest (god knows Melbourne needs the rain...we're the most drought affected capital city in Australia) I was feeling quite chilly and needed something to warm me up.
I lined a couple of small tart tins with a couple of sheets of filo pastry, which I folded up and roughly scrunched into the tins. I tucked any big bits back under itself. I peeled and cored a couple of pears and sliced the pears into thin slices. I rolled the pear slices in some brown sugar and threw them in a pan with some butter. After cooking them for a couple of minutes (turning once) they were looking caramelised. I took them out of the pan and spooned them into the lined cases. I brushed the edges of the filo pastry with milk to ensure they browned nicely, and placed the tarts into a preheated oven (220 degrees celsius/200 fan forced) for 7-8 minutes.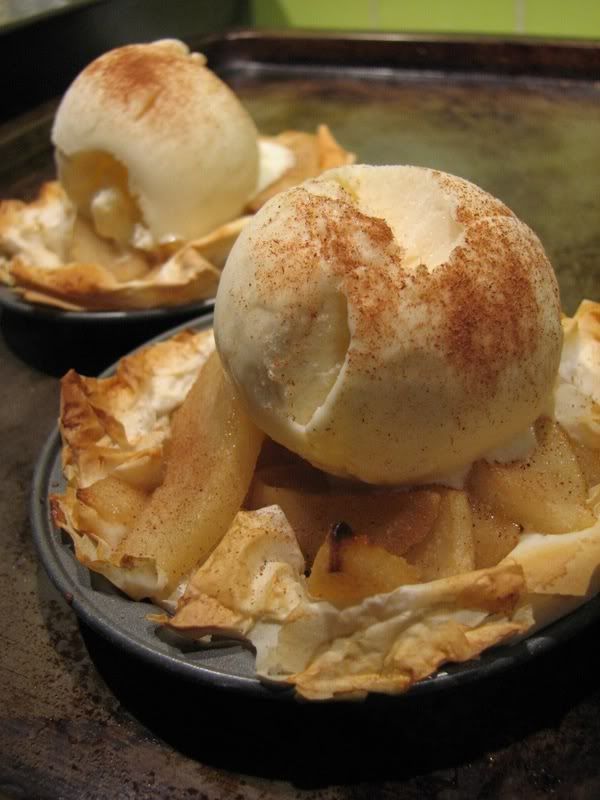 I topped the tarts with vanilla icecream and sprinkled some ground cinnamon on top.
I immediately felt the winter blues slip away...