I have become quite notorious at work, to the point that today my boss bestowed a laminated certificate thanking me for all the cakes and cupcakes I regularly bring in. Two of my colleagues asked me to do some cupcakes for them, and of course I eagerly obliged. They were both content with chocolate cupcakes topped with buttercream, but the design briefs were quite different.
Sam wanted something fun and funky for a new bunch of trainees he'd become particularly attached to. What a nice fella, providing cupcakes for all of them! They were certainly impressed.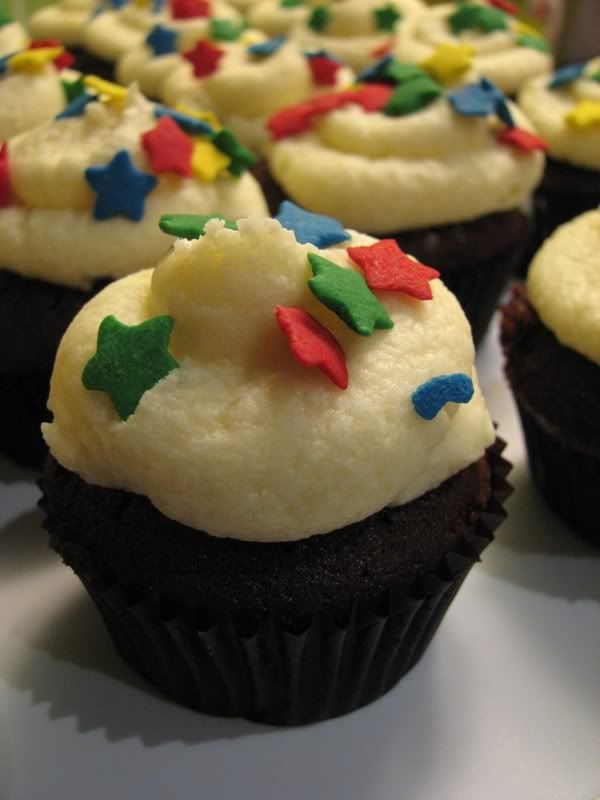 My favourite burlesque beauty, Nic, was the other colleague who needed some cupcakes. Here is the bombshell herself:
Nic decided to surprise her hubby with a box of customised cupcakes. They had to be pink, because that's his (not her!) favourite colour.
Nawww that's love!
The last cake on the agenda yesterday was a full size cake for my pal Igor, or Iggy Pop as I like to call him. Igor comes across as a harsh bastard with a view that women belong in the kitchen (!! yes !!) but for those of us priveleged enough to get to know the man underneath that tough exterior, he is a dear friend with a big heart.
Here's me and Iggy Pop at a recent dinner:
Igor has decided to leave us to go travelling overseas with his fiance for a few months so of course a farewell cake was in order.
It was chocolate cake smothered in buttercream and fondant. The piping represents the Serbian flag (and this got many laughs from those of us who know what the Serbian flag looks like!) The crazy Serb himself was the one who had to point it out to everyone.
It was an exhausting day but I got it all done and the cakes were enjoyed by all. I just need to have a rest now.