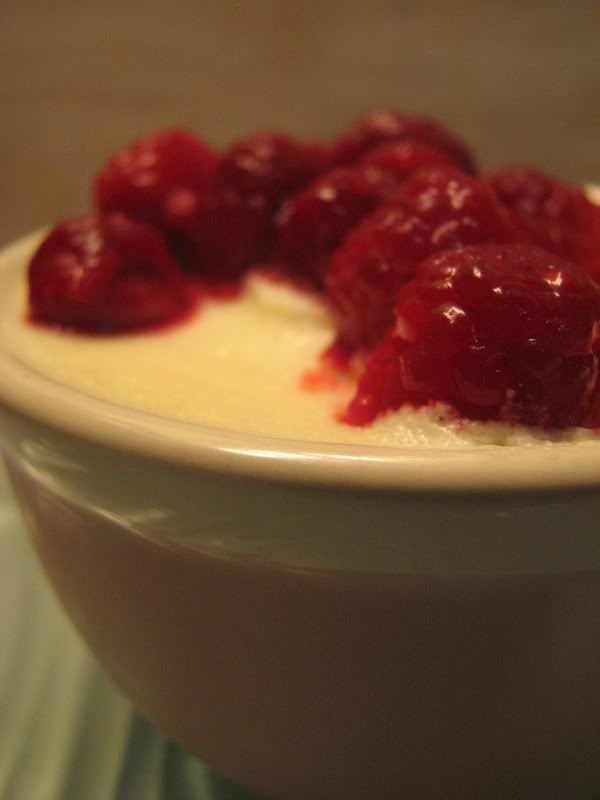 One of our dear friends Chrissy was coming over for a much-needed catchup. Both J and I lived with her our first year in Melbourne but unfortunately now that we live and work in completely opposite directions to each other, it means that our catchups are few and far between.
I needed a decadent dessert to impress, so I settled on white chocolate mousse.
This mousse is smooth and rich, and its flavour pairs wonderfully with berries. I used frozen raspberries, but any berry would be lovely.
White Chocolate Mousse (serves 4)
200g white chocolate, broken (I used white chocolate buttons)
300ml thickened cream
1 tsp gelatine
3 eggs, separated
berries, to serve
Heat the cream slowly over a medium heat to ensure it doesn't burn. When the cream reaches simmering point, start adding the chocolate slowly. I use a whisk to ensure that the chocolate melts completely and there are no lumps. Remove from heat and set aside.
Boil some water in the kettle and place one tablespoon of boiling water in a small bowl. Sprinkle the gelatine over the top. Place the bowl in a larger bowl filled with boiling water & stir the gelatine until it is dissolved. Lightly whisk egg yolks and add to chocolate mixture, along with the gelatine. Refridgerate for 20-30 minutes, until the mixture has slightly thickened.
After waiting for the mixture to thicken, whip the egg whites until they form firm peaks. Gently fold the egg whites into the chocolate mixture. Spoon into four ramekins/glasses and refridgerate for several hours until set. Decorate with berries & serve immediately.
Note: some people say that you must melt chocolate using a double boiler or using a saucepan with a bowl placed over the top. I find this method time consuming and I really don't see the point in creating extra dishes for yourself (yes, I'm lazy!) When melted chocolate I just do it in the microwave in short bursts, stirring in between. Now, because this recipe includes cream, I use the method of heating the cream and allowing the cream to melt the chocolate. I also use this method when I make ganache as well. It does not adversely affect the chocolate if you are adding the chocolate to cream. However, you can never put chocolate by itself directly onto heat as it will burn.