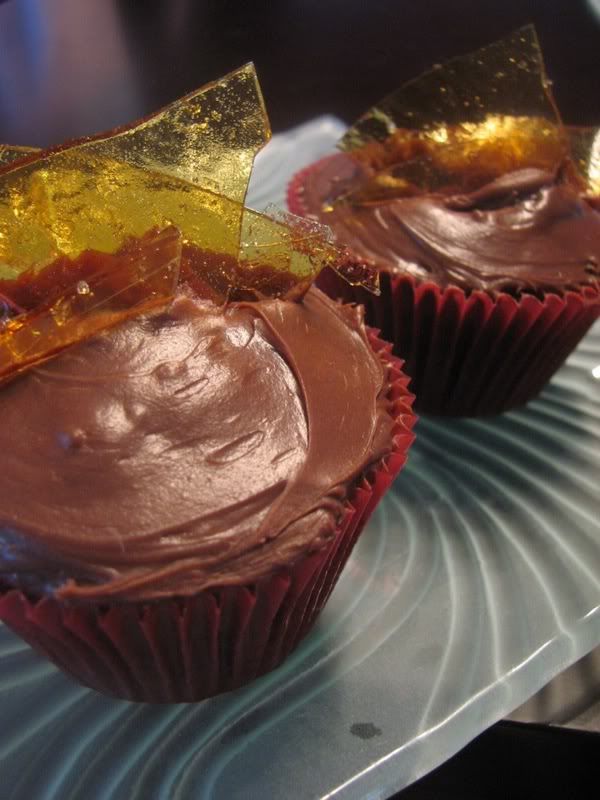 We are going to Ocean Grove to visit my mum today, and after much deliberation about what to bring (it is now tradition for me to bring a dessert of some sort) I decided to devise a recipe involving the harmonious flavours of banana, toffee and chocolate.
I was going to make a traditional banoffee pie; however I was concerned about the cream going bad during the 1 1/2 hour trip between Melbourne and Ocean Grove. Instead, I decided to turn banoffee pie into a cupcake.
These are banana and chocolate flavoured cupcakes filled with gooey caramel and topped with milk chocolate ganache and toffee shards.
Ingredients
Cake
125g butter, softened and cubed
3/4 cup brown sugar
2 eggs
1 tsp vanilla extract
2 tbls cocoa powder
1 1/2 cup SR flour, with 2 tablespoons removed
3/4 cup milk
2 bananas, mashed
Preheat oven to 180 degrees celsius (160 for us fan forced folk). Cream butter, vanilla extract and sugar until fluffy. Add eggs one at a time, scraping down the sides of the mixing bowl to ensure combined well. Sift half of the cocoa and flour into the bowl and add half the milk. Fold in until combined, then add the remaining cocoa, flour and milk. Add bananas and mix until well combined. Spoon into patty pans and bake for 15-20 mins or until the tops spring back when lightly pressed.
Ganache
200g milk chocolate, chopped
125ml cream
Heat cream over medium heat, bring to boil and stir continuously. Slowly add chocolate, stirring to ensure chocolate melts and the mixture becomes smooth. Place in fridge for 30 mins or until the ganache is at a spreadable consistency.
Toffee Shards
1 cup caster sugar
1/2 cup water
Place sugar and water in a small saucepan. Heat over low heat for 5 minutes, stirring continuously to ensure the sugar dissolves. Stop stirring and bring the mixture to the boil. Boil for 10-12 minutes and remove immediately from heat when the mixture begins to turn a toffee colour. Pour mixture into a tray lined with non stick baking paper. Be sure to wear oven mitts as this mixture is incredibly hot (evidenced by the burn on my finger). Swirl the mixture around so that it remains in a thin layer on the tray.
Assembly
Cut a cone shape out of the top of each cupcake with a sharp knife. Fill the hole with Nestle Caramel Top n Fill (you could make your own caramel by boiling a tin of condensed milk; however I find the Top N Fill to be a good substitute). Replace the very top of the cone you cut out to seal the caramel in. Spoon ganache over the cupcake and smooth with a small pallet knife. Break toffee into shards and place decoratively on each cupcake.