Ok, I admit it. I'm a glutton for punishment. I couldn't stay away from the kitchen today so I made some 'key lime cupcakes'. I've made Key Lime Pie before so I thought I'd transform it into a cupcake (ala Banoffee Pie from last week).
I began with a lemon cupcake (I would have made it with lime zest however I didn't have any limes around...so I made do with lemon juice & some lemon butter). I then filled the cupcakes with home-made lime curd and topped it with meringue.
It was at this point I pulled out my trusty blowtorch and nearly proceeded to burn down my apartment. Note to self: keep flame low and AWAY from cupcake liners! Derr!
Key Lime Cupcakes
For cake
125g butter, softened and cubed
3/4 cup caster sugar
2 tbls lemon juice
1 tbl store-bought lemon butter
2 eggs
1 1/2 cups SR flour, sifted
1/2 cup milk
Preheat oven to 180 degrees celsius (160 for us fan forced folk). Cream butter, sugar, juice & lemon butter until smooth and creamy. Add eggs one at a time. Gently stir in half the flour and milk, then add remaining milk and flour. Mix until combined. Spoon into cupcake liners & bake for 14-16 minutes or until lightly browned and cake springs back when lightly touched. Leave cakes to cool on a wire rack.
Lime Curd
Make lime butter several hours in advance to give it time to thicken.
3-4 limes
2 eggs, lightly whisked
3/4 cup caster sugar
125g butter, softened & cubed
1 tsp cornflour
Zest limes & collect two tablespoons of zest. Juice limes until you have 100ml of juice. Place all ingredients in a saucepan & whisk over low heat until the mixture thickens slightly. It's important you don't let it boil - you don't want scrambled eggs in your lime curd! Refrigerate until thickened.
Meringue
3 egg whites
1/2 cup caster sugar
1/2 tsp cream of tartar
Whip egg whites & cream of tarter together until frothy. Start adding the sugar one tablespoon at a time until it is fully dissolved (you can check by rubbing some of the mixture between your thumb and forefinger - if it feels grainy it needs longer).
Assembly

Cut holes in top of cupcakes with a sharp paring knife (I actually use a steak knife...but I'm a little kooky).
Fill cupcakes with lime curd.
Spoon a generous dollop of meringue over the top of the cupcake and spread with a small pallet knife. Make peaks with the end of the pallet knife if desired. Fire up the trusty blowtorch and brown the meringue (do this CAREFULLY!)
Note: you can brown these in the oven if you don't have a blowtorch; however I wouldn't recommend peaking the meringue in this case as it may burn the tops instead of browning the whole meringue. Keep the meringue flattish if you're browning them in the oven.
And while we're at it, here's a gift-boxed cupcake...who wouldn't want to receive one of these as a pressie!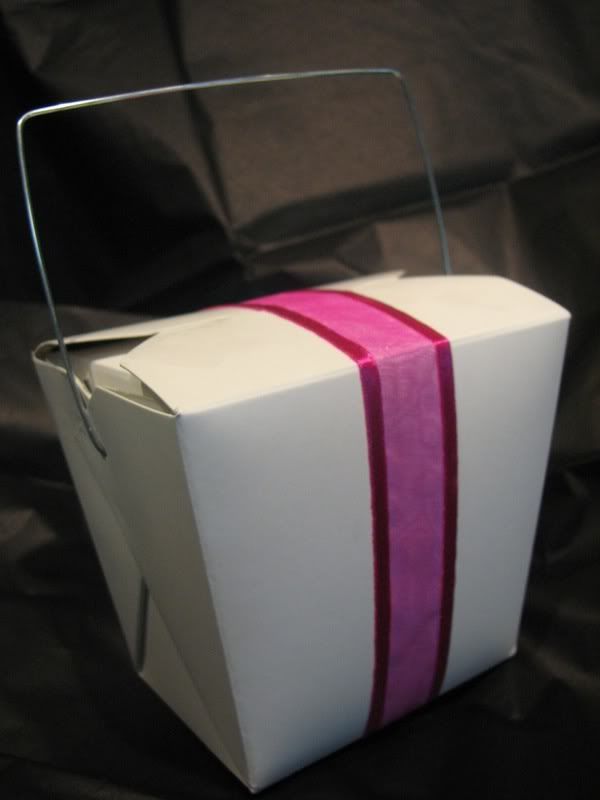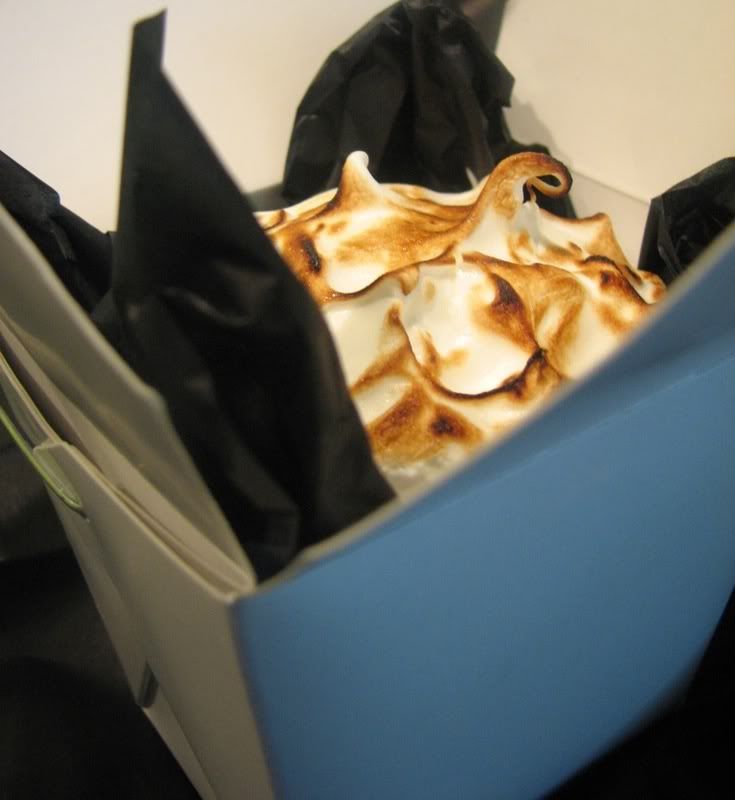 Happy caking everyone!