Well, rather my kitchen is going bananas.
Coles had our beloved bananas on special last week for $1.50/kg (a far cry from the outrageous prices caused by cyclones up north that saw us all on banana rations for about a year!) so I stocked up. You may have noticed I have been cooking a lot of banana recipes this weekend...and that would be why. I can't bear to have any bananas go to waste after not being allowed to have them for so long.
Today's breakfast was banana & chocolate chip muffins. Shock horror, it's not a cupcake! Oh well, at least it means I don't have to bother with icing. Hehe.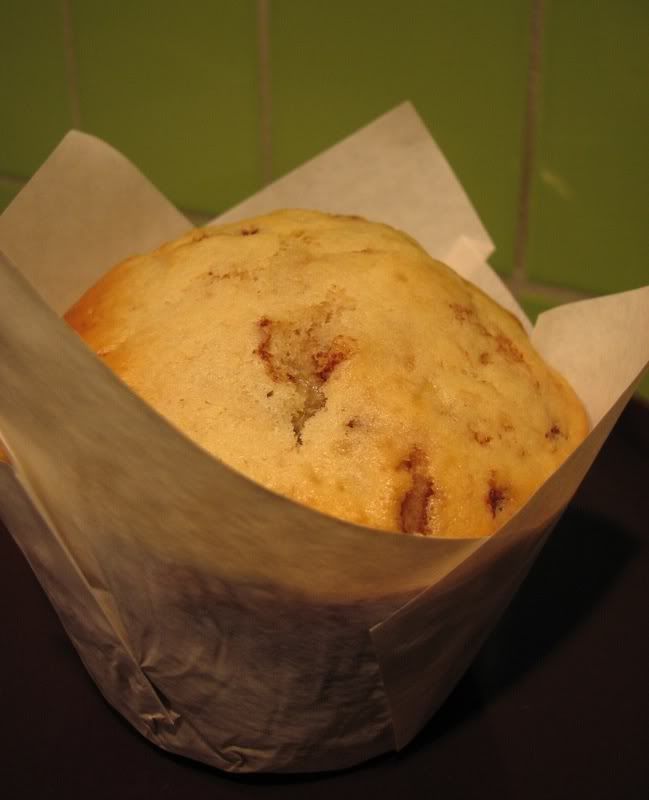 I borrowed the recipe from
here
.
I didn't have any chocolate chips on hand so I used a mixture of milk chocolate buttons and chopped couverture chocolate (so these are tres tres fancy muffins!) I also whacked in an extra banana for good measure.
I used texas-sized muffin liners so I got 6 giant muffins, but you would get about 12 cupcake sized muffins out of this mixture.
I'm eating one right now straight from the oven and it is delish!
Happy caking!