Thank god it's over.
I spent two days in the kitchen attempting to make Christmas a wonderful one for all this year. I hopefully succeeded in doing so!
We had a crowd of seven (well it's a crowd when you usually have two people in your apartment!) to feed, and I believe everyone left with a (very) full tummy.
On the menu was roast beef coated with garlic and herbs, along with mashed sweet potato, roasted potato and pumpkin, sweet corn on the cob and steamed peas and carrots.
But of course dessert is what you're all interested in!
We had pavlova (an Aussie Christmas isn't complete without one!) as well as honeycomb cheesecake, truffles and Christmas cookies. There was no room left for the gingerbread and fruit I also had on hand!
The pavlova was topped with cream, strawberries, blueberries, raspberries, banana, passionfruit and flaked chocolate (drool):
I cheated with the pav and used a store bought base (they are just so time consuming and fiddly to make...and Coles does a great base!) but I made everything else from scratch.
The Christmas Jewel Cookies were a hit; they are shortbread with coloured fruit drops in the middle.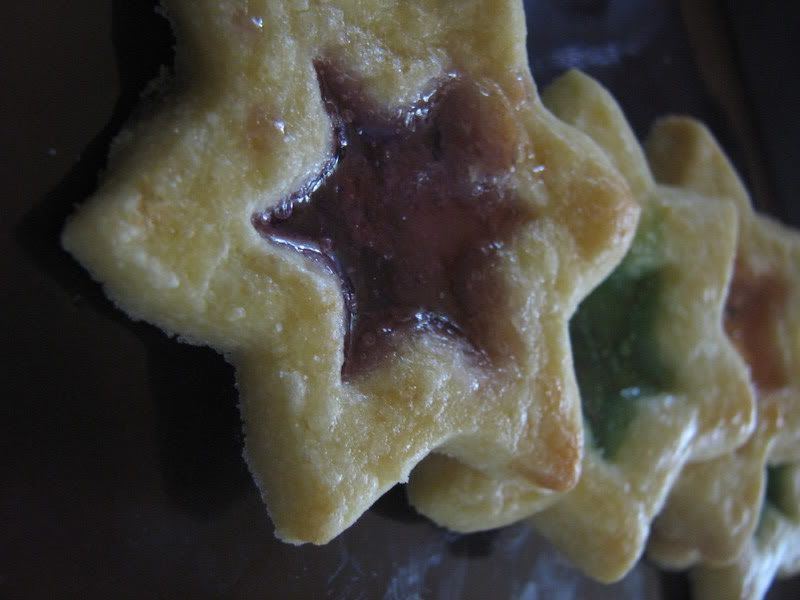 This divine honeycomb cheesecake was very popular, but it's very rich!
So what did I get for Christmas?
This is what!
Isn't it the most gorgeous mixer you've ever seen? My other half did ridiculously well with this present! Within an hour of opening it I had already made and eaten crepes, and I must say it did a wonderful job. I also whipped the cream for the pav with it, so it's had a workout already.
I will definitely try making bread using the bread hooks, and who knows...a pavlova may even eventuate one day!
There was definitely a food theme going on with our presents - I got my gorgeous MixMaster and I gave J the Weber Baby Q!
It's pretty much the cutest little BBQ the world has ever seen, and it's small enough for our extremely narrow balcony. He loves it. It's already set up and ready for a big cook off.
I hope everyone had a magnificent Christmas. All the very best for a happy and safe festive season!
Kel xo