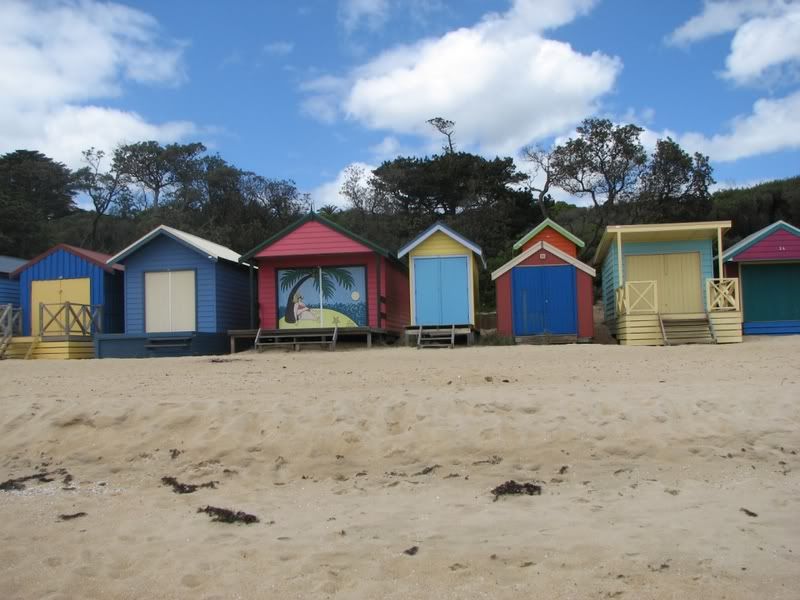 The smell of fresh strawberries reminds me so much of my childhood. I grew up on five acres, and we had a huge veggie patch that was dominated by raspberries, loganberries and strawberries. It was only when I grew older and left home that I truly appreciated having these fresh berries available to me for several months of the year.
Justin and I decided to get away from the madness of the Melbourne Cup by heading down the coast to the Mornington Peninsula. I honestly didn't care what we got up to down there...but I stipulated that we MUST stop by the Sunny Ridge Strawberry Farm. Unfortunately November is a little too early for cherries and raspberries, but I was more than satisfied with the thought of gorging on kilograms of fresh strawberries.
Upon arriving at the farm, we were met with acres upon acres of strawberries - and we were allowed to pick as many as we wanted! Armed with a plastic tub, we scavenged through the foliage to find the ripe berries.
After dodging mud and filling our tub to capacity, we trudged back to the store. I also picked up a small jar of strawberry jam and a large bottle of raspberry dessert sauce (stay tuned for a recipe involving this delicious ingredient soon!)
Because you can never have enough strawberries, I also picked up a couple of punnets at Sorrento on the way home. They were the best looking punnet strawberries I've ever seen! Plump, ripe and juicy, these berries were crying out for use in some sort of delicious dessert.
I wandered blindly into the world of...
...white chocolate and strawberry cupcakes.
Yes, I know there are recipes out there...however I find it much more satisfying creating my own recipes from scratch. I find some sort of perverse pleasure in watching people enjoy something that I have created myself.
Ingredients:
125g butter
3/4 cup sugar
1 tsp vanilla essence
3 eggs
1 1/2 cups self raising flour
100g white chocolate, melted
1/2 cup milk
200g strawberries, chopped finely
Method:
Cream butter, sugar and essence. Beat in the eggs one at a time. Sift in half the flour, add half the milk and combine. Add remaining milk and sifted flour and stir until combined. Add melted chocolate and combine well. Fold in strawberries.
Spoon into patty cases (make them fairly full as this recipe doesn't rise much - you could even add 1/4 tsp bi-carb to give it a bit more raising ability) and bake for 12 mins @ 180c (fan forced - adjust if you don't have a fan forced oven).
I topped mine with strawberry cream cheese frosting and a halved strawberry coated in white chocolate. I won't post the frosting recipe here as it was a semi-disaster. I will post a recipe when I have perfected the beast that is cream cheese frosting.
Lastly, here are some pics of the beautiful coastline down at Mornington. Enjoy!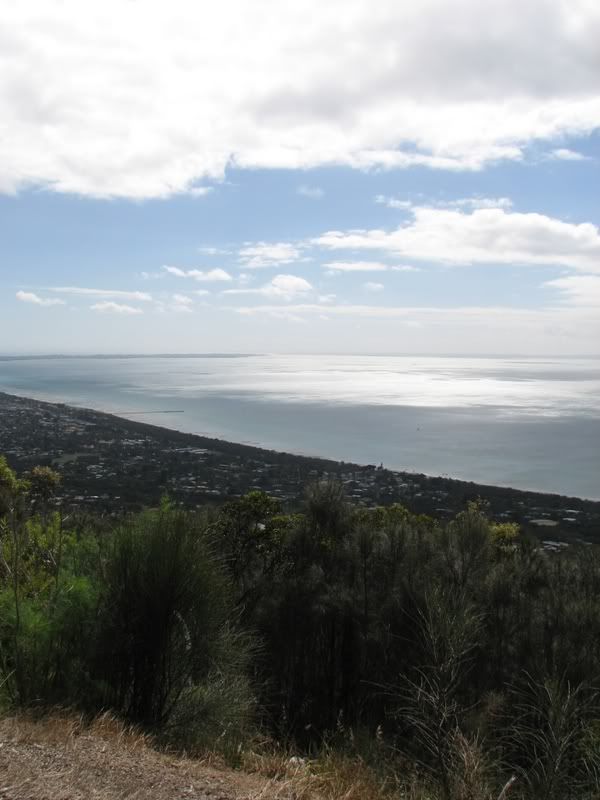 We were so far away from the city...and it was bliss.