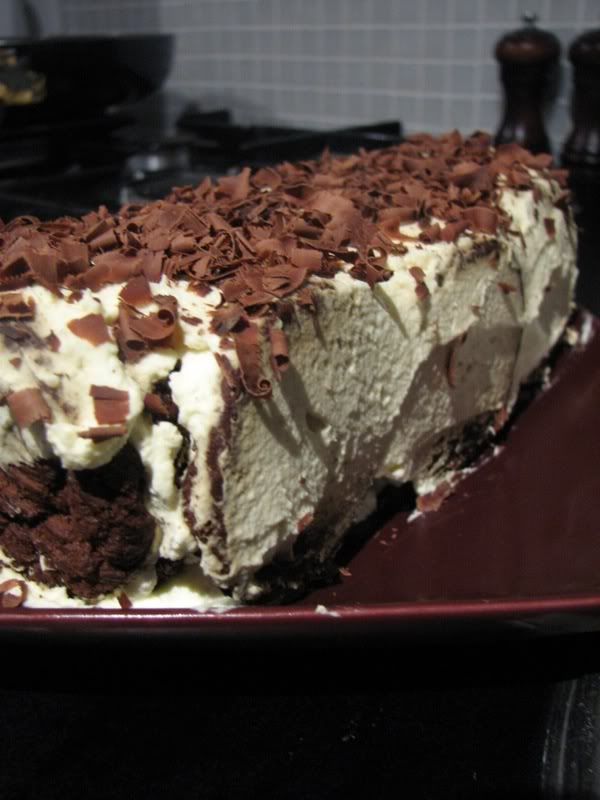 Hello hello! Well, it is with sadness that I let you know that this will be the last time you see my gorgeous kitchen...because I am moving house on Monday! My new kitchen is rather...err...interesting looking, and will make for great pics I think! I do apologise for any delayed comments/responses as I will be offline while I wait for my ADSL2+ to be connected at my new place.
Anyways, enough of that! Here's an Aussie favourite - Chocolate Ripple cake!
While it's not really a 'cake' per se, it's deliciously decadent.
Apologies to my international readers if you are unable to get Arnott's Chocolate Ripple biscuits for this recipe. You may find a local substitute - Chocolate Ripples are a crumbly chocolate cookie. I'm sure you could find something similar.
Easiest. Recipe. Ever.
400 ml thickened cream
Dash of vanilla essence
1 tsp caster sugar
Dark or milk chocolate, flaked (to decorate)
Whip cream, essence and sugar together until quite stiff. Spread a layer of cream on your dish (you will need to construct this on the plate you intend to serve on). Spread a generous spoonful of cream on a biscuit and stand the biscuit on its side on top of the layer of cream you've put on the plate. Get another biscuit, spread with cream and sandwich on its side with the first biscuit. Repeat this process until you've used all the biscuits and you've formed a 'log'. I also added a few biscuits to the sides of the log to give it some width. Smooth the remaining cream over the outside of the log and top with chocolate flakes/curls.
Refrigerate for several hours until set.
The cream will soak into the biscuits, making them soft and spongy. Cut into angled slices and serve with fresh berries.