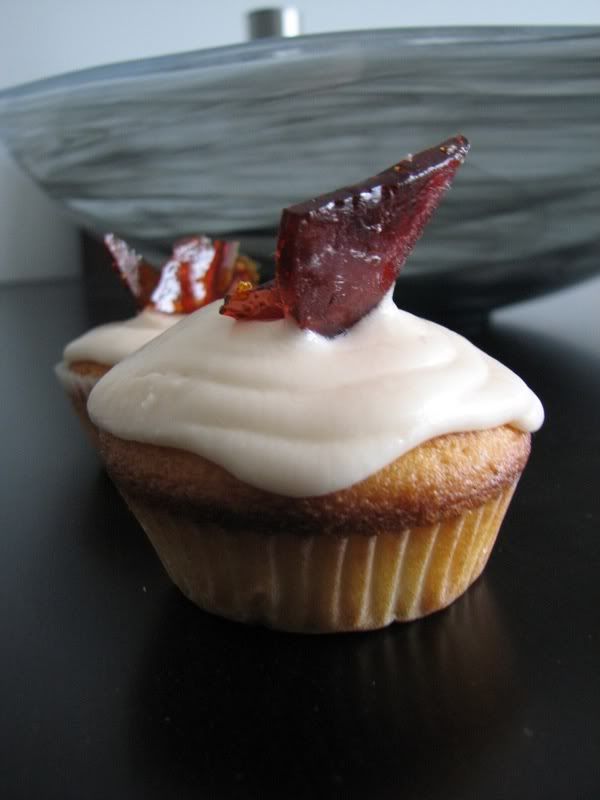 For these cupcakes, I used the Vanilla Cupcakes recipe.
Royal icing is generally used to decorate cookies (think gingerbread men) due to its runny consistency. It is also good for assembling gingerbread houses as it dries quite hard and sticky when refrigerated.
Royal icing does not hold its shape when piped, and has a glossy finish.
Beat the egg white until soft peaks form. Beat in icing sugar a little at a time. By this point, your mixer might find it a little difficult to beat this mixture as the egg white causes it to get incredibly stiff. Add water as you need it. The butter can then be beaten in.
For the cupcakes shown above, I piped the royal icing mixture on so that I would get a slight swirl effect. Ensure that you begin piping quite far away from the edge of the cupcake as the icing does drip down the sides if you're not careful.
Brush a large baking tray with olive oil (you might even need one large and one small tray, depending on how thick you want the toffee shards). Line with non stick baking paper.
Combine sugar and water in a saucepan over low heat and stir for 5 minutes or until sugar is dissolved. Turn the heat up and boil (without stirring) for 10-12 minutes, or until a deep golden brown. Turn off heat and let the toffee sit until the bubbles have subsided. Pour into your prepared trays (make sure you're using an oven mitt or tea towel to hold the tray as it will get extremely hot!) and swirl the toffee until it covers the bottom of the tray. Leave aside for about 10-15 minutes or until set. Break into shards and poke into the top of the cupcakes.