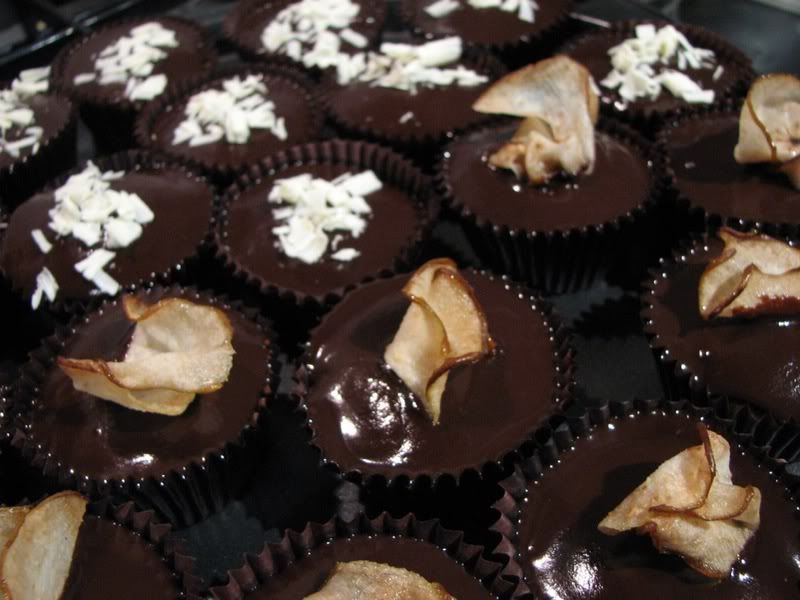 I had never heard of (let alone eaten) this combination before J came home one night raving about the cake he'd had at work. It had been a mission of mine to transform this cake into a cute little cupcake and I finally did it today. They are quite a bit of work, but gee they're yummy!
There are three different parts to this recipe: drying/baking the pear, baking the cupcakes and making the ganache. Here's a how-to for each part.
Decorative pears:
To make the decorative dried pear, firstly preheat a slow oven (100 degrees celsius). You will need to coat the pears in a sugar syrup. To make this, combine two tablespoons of water with two tablespoons of sugar over medium heat until the sugar had dissolved. Then bring to the boil, then reduce the heat again and let it simmer for one minute. Turn off the heat.
Finely slice a medium pear (I used Beurre Bosc). So that the slices are thin and even, I would suggest using a mandolin or V-Slicer. Brush each slice (both sides) with the sugar syrup, drape the slices over a wire rack over an oven tray (I used my roasting rack). Bake in the oven for 40-50 minutes. I would suggest not going too heavy on the sugar syrup as the pears can get soggy and won't hold their shape well.
Cupcake mixture:
Ingredients:
125g butter, softened
3/4 cup sugar
2 eggs
200g dark chocolate chips, melted
1 1/2 cups self raising flour, sifted
1/2 cup milk
Small tin of pear halves, finely diced (drain every bit of liquid out - use a strainer)
Method:
Preheat oven to 180 degrees celsius (I use a fan forced oven so you may need to adjust this). Cream the butter and sugar. Add the eggs one at a time and beat well. Using a wooden spoon, fold in the chocolate and pears. Add the flour and milk, a little at a time, until you have a smooth and thick batter. Spoon into cupcake liners and bake in the oven for 12-14 minutes until top springs back when lightly pressed.
Please note:
For this recipe, I wanted the cakes to be quite shallow in order for the ganache to sit flush with the top of the cupcake liner. For this effect, I only filled the liners about half way, and formed a well in the centre of each in order to counteract the inevitable rising of the cake. This method gave me 36 cupcakes instead of the usual 24.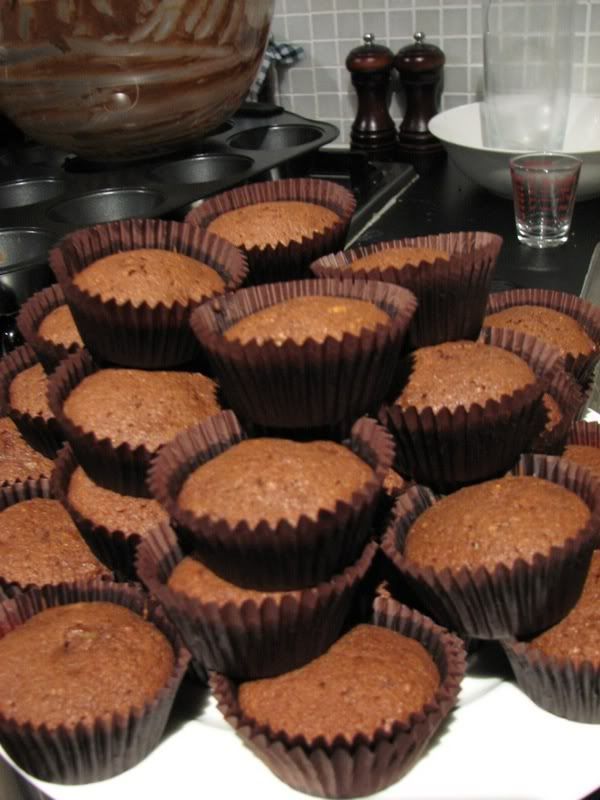 Ganache:
Break a 200g block of dark cooking chocolate into rough pieces in a large bowl. Bring one 300ml carton of thickened cream to the boil in a saucepan. Pour over the chocolate and mix well until mixture is smooth. Cover and refrigerate for about 15 minutes.
Assembly:
I spooned one teaspoon of ganache on top of a cupcake, then gently tapped it on the bench until the ganache had settled across the top. I then topped each cupcake with a shaped piece of the sugar pear. As I didn't have quite enough pears to decorate each one, I shaved some white chocolate with a veggie peeler and topped the remaining cupcakes with that.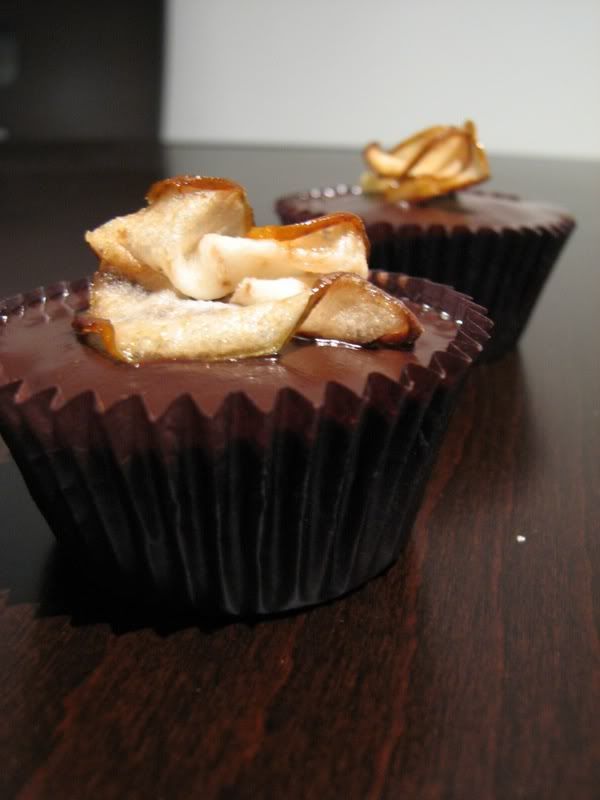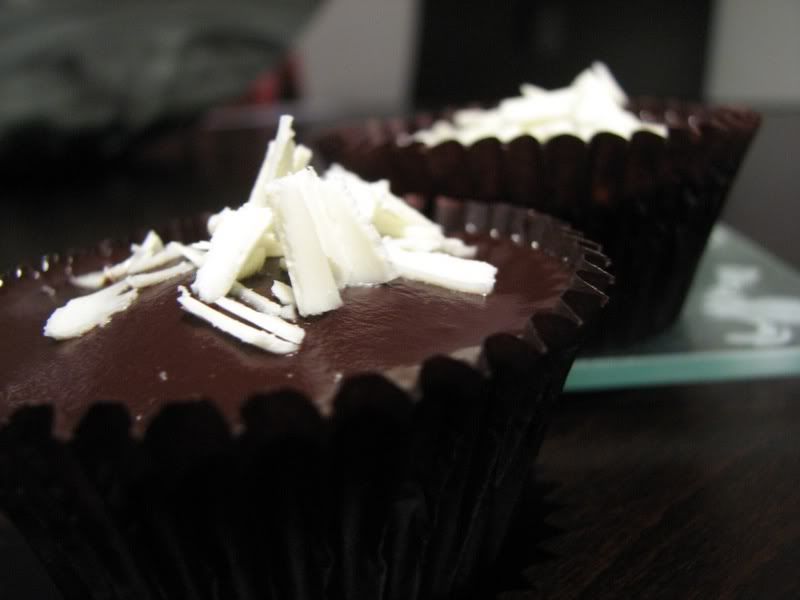 Stay tuned for a review from J's colleagues and the savages that are my workmates! ;)