I can't believe it was three years ago that my beautiful godson Zeke was born. He has grown up so quickly. He's at a great age now because, although he runs around destroying everything like a whirlwind, you can actually have a conversation with him. I'm so lucky to have been part of his life since he was born.
Anyhoo, enough soppiness...I'm sure you're dying so see a pic of this gorgeous kid! So here he is...introducing Ezekeil (Zeke)!
We all gathered at Zeke's mum's house yesterday for his birthday party and we had a ball. It was hilarious watching Zeke open his presents - if it wasn't Thomas the Tank Engine related then you were in trouble. A cry of 'IT'S NOT THOMAS!!!' would ring throughout the house if he happened to open a present that didn't tie into Thomas somehow. Someone's thoughtful gift of Golden Books got chucked on the ground at one point. Thank god we bought him some Thomas toys! Phew! Crisis averted!
As I knew Zeke was an avid fan of Thomas I decided to tie this in with the cupcakes I made him. I made Zeke a dozen vanilla cupcakes and topped them with blue buttercream and a red fondant disc. The fondant discs were embossed with a mixture of Zeke's name and trains.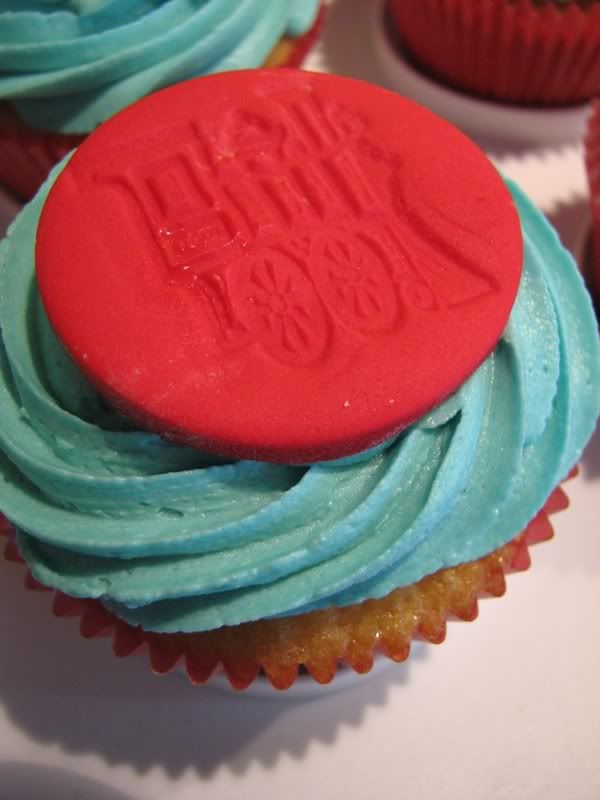 Fun was had by all! Happy Birthday little man!