Anyone who knows my mum knows her weakness for a good cheesecake. We went up to Ocean Grove to visit her on the weekend and I brought the obligatory dessert.
I found it difficult to find a no-bake recipe for a caramel cheesecake, so I decided to devise my own.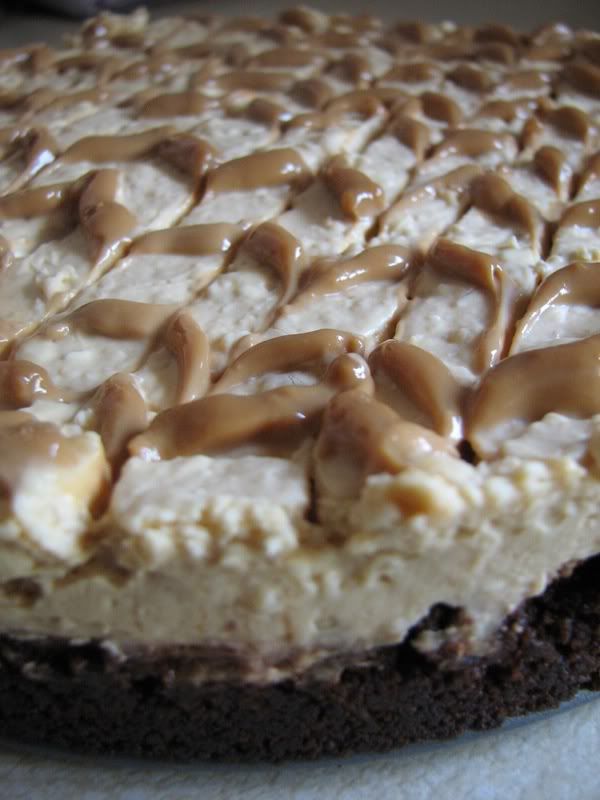 Gooey No-Bake Caramel Cheesecake
500g Philly cream cheese, at room temperature
300ml thickened/whipping cream
3 tsp gelatine, dissolved in 3 tablespoons of warm water
1 can Nestle Caramel Top n Fill
1 packet Arnott's Chocolate Ripple biscuits
80g butter, melted
Pop the chocolate biscuits in the food processor and process until they form fine crumbs. Add the butter and process until well combined. Press mixture into a springform cheesecake pan and chill in the fridge.
Chop the Philly cheese and beat it with electric mixer until smooth. Add the cream and gelatine and mix until smooth and thick. Stir in 3/4 of the can of caramel and reserve the rest for later.
Pour mixture onto crumb base and smooth with spatula. Use the rest of the caramel to decorate the top of the cheesecake.
Chill in the fridge for a couple of hours, or until firm.
Enjoy!