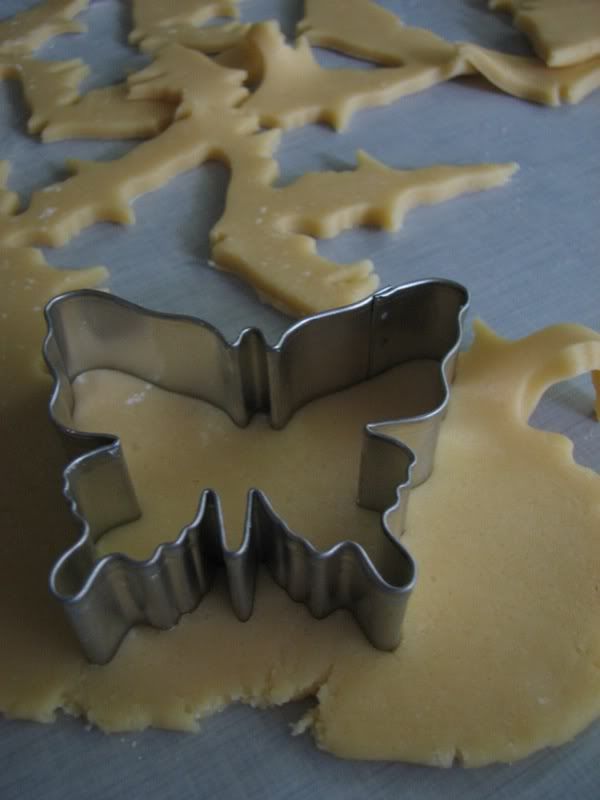 I had been dying to try sugar cookies for ages and finally got some time yesterday to bake them. Judging by the lack of Aussie recipes for sugar cookies I think the term is quite American. They are sort of like a plain shortbread and are ideal for decorating as they don't rise much.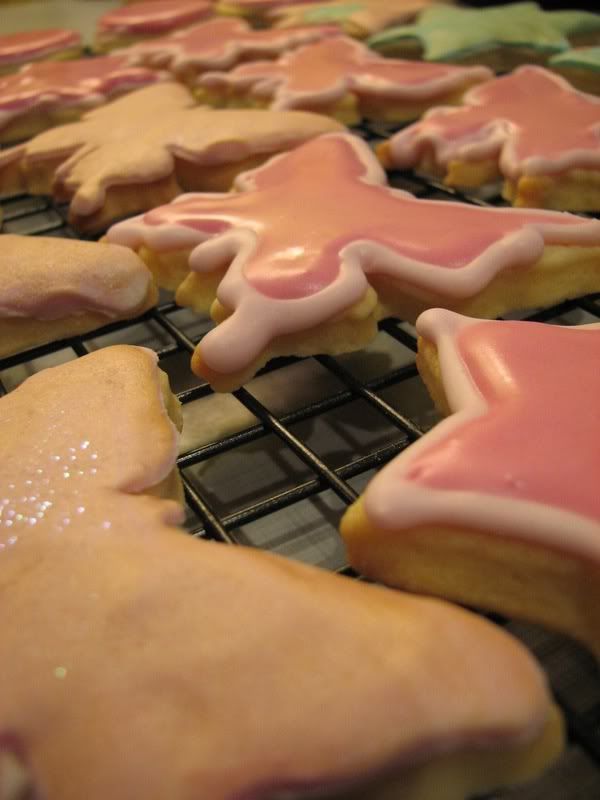 Sugar Cookies
3 cups plain flour
3/4 tsp baking powder
pinch of salt
250g unsalted butter, cubed & softened
1 cup caster sugar
1 egg, beaten
2 tbl milk
Icing sugar, for rolling out dough
Sift flour, salt and baking powder together into a bowl. Place butter, sugar and milk in bowl of an electric mixer and beat until pale and creamy. Add egg and mix until combined. Gradually add flour mixture until the dough comes together. Divide mixture in half, wrap in greaseproof paper and pop in the fridge for a couple of hours.
When dough is chilled, remove from fridge and knead until dough is pliable. Preheat oven to 190 degrees celsius (170 fan forced). Line baking trays with non stick baking paper. Dust some icing sugar onto your workbench and rolling pin and roll dough out to about 1/2 a centimetre thick. Cut desired shapes and place them on lined trays about a centimetre apart.
Bake the cookies for 8-10 minutes or until lightly brown around the edges. Leave to cool on trays for a couple of minutes before carefully lifting onto a wire rack. These will keep for about a week if you store them in an air tight container.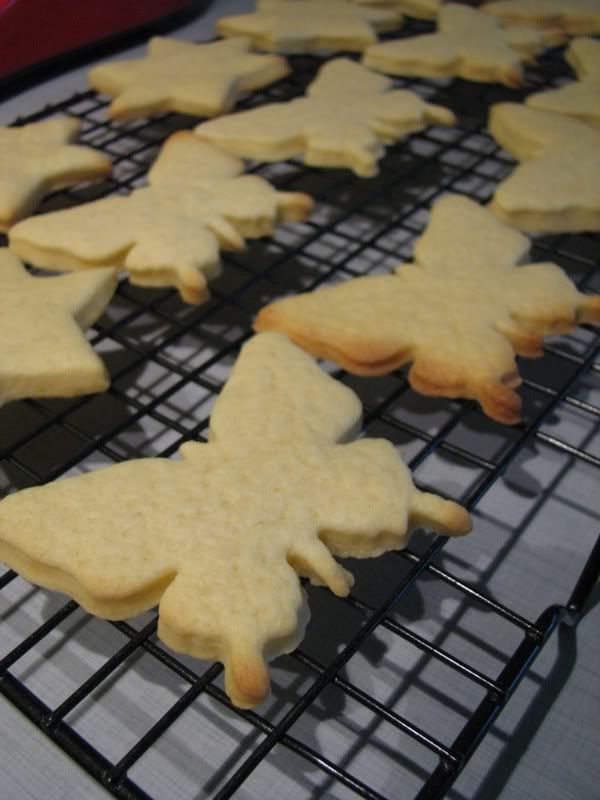 I only used half the dough and froze the rest and got about 20 cookies.
I decorated some of my cookies with fondant and the rest with royal icing.
For the cookies decorated with fondant, I smeared a little royal icing onto the cookie and then cut a shape out of fondant using the same cutter I cut the cookie with. I gently pressed the fondant on and used a clean brush to brush any icing sugar off the cookie.
To get a sheen effect on the cookie I mixed gold lustre dust with a little vodka and brushed it on the cookie. Unfortunately the gold made the cookies appear dirty rather than pearlescent. Next time I will be sure to use a neutral pearl colour instead. I flicked a little edible glitter on top for a bit of extra sparkle.
Royal Icing
1 egg white
1 tsp lemon juice
1 tsp cream of tarter
a couple of cups icing sugar
Beat egg white and cream of tarter until a little frothy (you don't want too many bubbles as this will affect the icing). Gradually add icing sugar and then the lemon juice (be sure you don't add the juice before the sugar as the citrus will start to cook the egg white). There's no real measurements to royal icing as it's just a question of getting a good 'flow' consistency. You will know when you've got the right consistency when you drag a spoon through and flick some icing back into the mixture. When it's ready the ribbons should not disappear straight away - they should stay on the surface briefly. This consistency is called 'colour flow'. For piping outlines etc, the consistency should be thicker.
For my cookies I put a few tablespoons of the icing mixture in a small bowl and added a little icing sugar to thicken the mixture to a good piping consistency. I piped outlines on my cookies and left them to dry.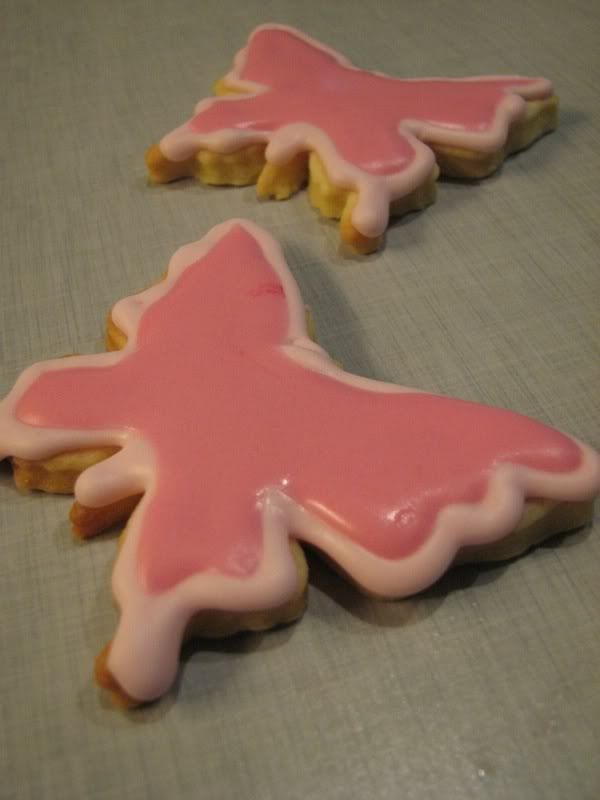 I coloured the remaining royal icing and spooned a little onto a cookie. Using a small cupcake spatula I smoothed the colour flow into the crevices and left them to dry. You should have a smooth looking icing on top of the cookie with a lovely sheen to it.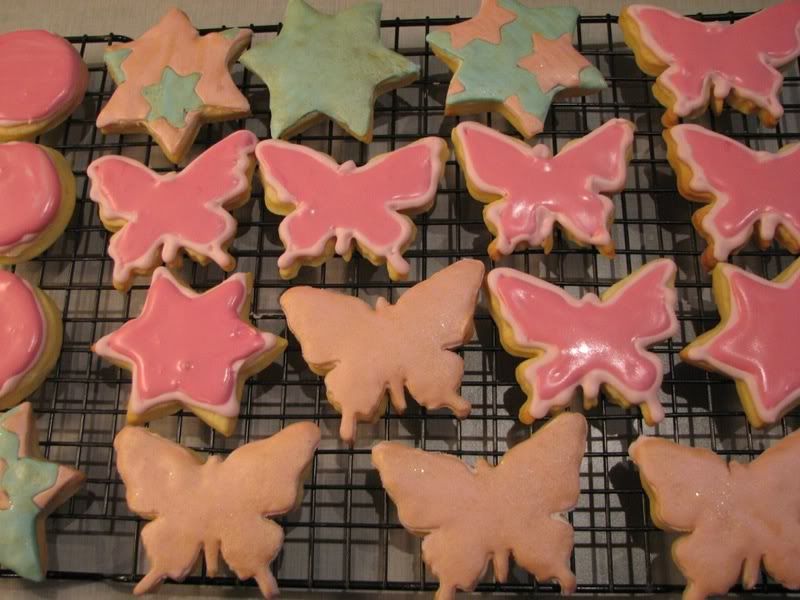 So there you have it - sugar cookies!