One of the lovely ladies from a forum I frequent, who is also a regular reader of this blog, kindly asked me to make a cake for her husband's surprise 40th birthday party. What an awesome wife Jane is, organising a big birthday bash for her hubby! I was thrilled to be asked, and immediately jumped at the chance.
Jonathon is into gardening and loves hanging out in his veggie patch, so it was only natural that I design a veggie patch cake for him.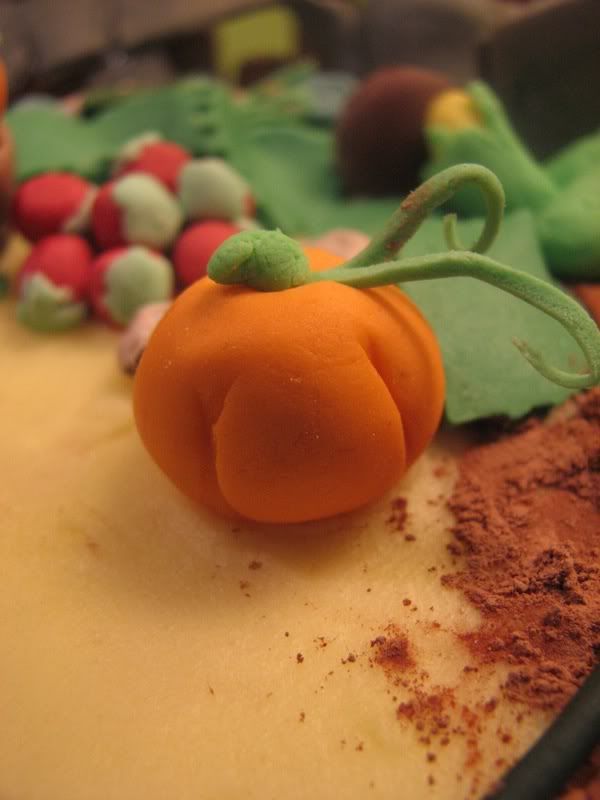 Having not done a lot of full size cakes, I was a little apprehensive. Sure, I can master a cupcake but a big two tiered cake? That's a whole other story.
My nervousness soon dissipated when I began sculpting the tiny vegetables that adorned the top tier. Teeny tomatoes, small sweetcorn, pint-sized pumpkin and cute carrots were the vegetables of choice.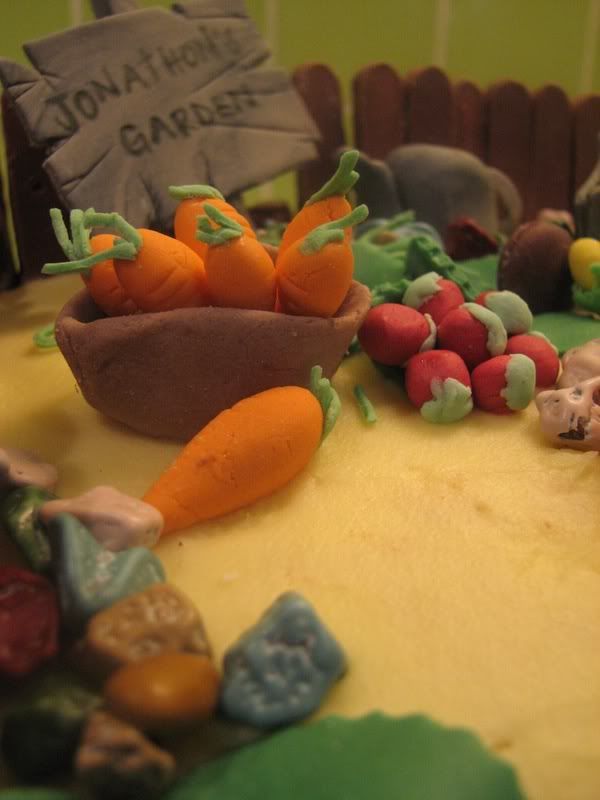 It seems only fitting to commemorate my first official big-cake order by naming the flavour combo after the birthday boy.
Jonathon's Lemon and Lime Cake
125g butter, softened and cubed
3/4 caster sugar
2 eggs
1 1/2 cups self raising flour, sifted
1/2 cup milk
2 tablespoons lemon juice
zest of half a lime

Preheat oven to 180 celsius (160 fan forced). Cream butter, sugar and lemon juice until fluffy. Add eggs one at a time. Stir in half the flour and half the milk, then stir in remaining milk and flour along with the lime zest. Stir until smooth. Pour batter into greased pan lined with non stick baking paper. Tap to rid mixture of air bubbles and bake for 25 minutes or until the cake springs back when lightly touched. Allow cake to cool in pan and turn out onto wire rack.

I iced the cake with lime buttercream and piped vanilla buttercream along the edges. The decorations were made with gumpaste (fondant with gum tragacanth added) and were dried for several days prior to ensure they were hardened thoroughly. I coated several of the decorations with cake decorating glaze to give a polished, matte look. The fence was made of malt sticks and I also placed clusters of chocolate rocks around the top of the cake. I also made use of my new edible markers to write on the garden sign and the vegetable labels.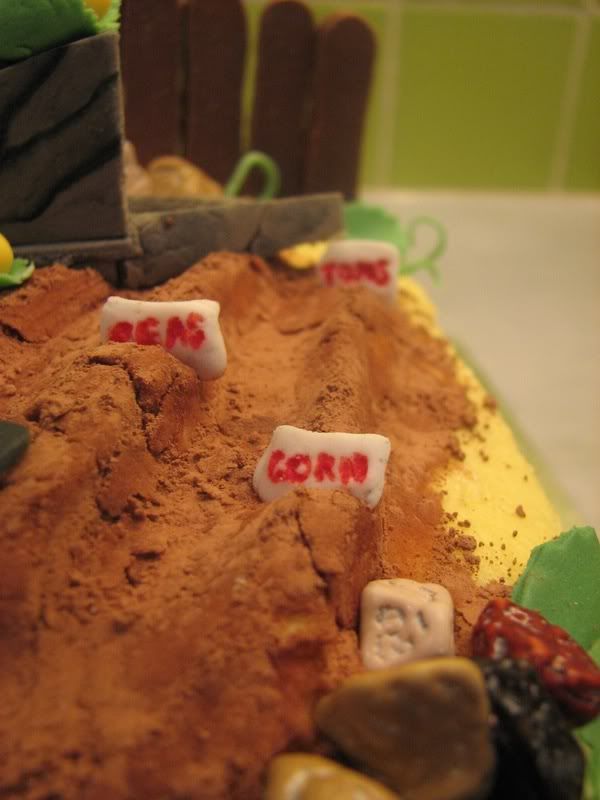 I received a message from Jane earlier today saying that everyone loved the cake. I'm so pleased! :) :) :)