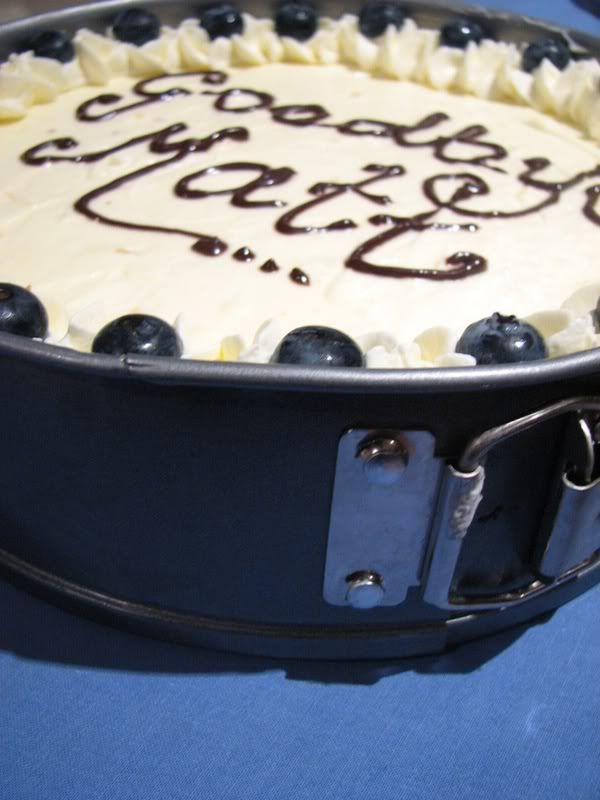 It was yet another sad day at work today. We had to say goodbye to another much-loved colleague, Matt. Now, as opposed to Fran, Matt is switching projects and not moving to the other side of the world. However, his new role will see him working from home most of the time (it's the call centre of the future my friends!) so we won't see him much at all.
Matt has always struck me as an incredibly interesting person as his life has taken him in directions that I have never experienced. He has the amazing gift of being able to effectively communicate to people with varied learning styles, and could scam himself out of any situation (haha). I will miss hearing 'Kellllllll....can you edit this for me?' and 'Kelllll....whaddya mean this isn't 'sposed to have an apostrophe' and 'Kellllll....do you like smoking?'
We in the management team had a small goodbye gathering today, and it inevitably involved a 'Kel Cake'. Today was Matt's favourite, lemon cheesecake.
Ingredients:
3 tsp powdered gelatine
2 tbls water
100g butter, melted
250g Ginger Nut biscuits, crushed finely
2 x packets Philly cheese, softened
1 cup cream, whipped
zest and juice of two lemons
1 cup caster sugar
Method:
Crush biscuits in food processor. Add melted butter & whiz up until combined. Press into base & sides of a greased 20 cm springform pan. Refrigerate for 15 minutes.
Sprinkle gelatine over water in a small bowl and leave for 5 minutes, until spongy. Melt for 25 seconds in the microwave.
Beat cheese, sugar and zest together until very smooth. Add juice and gelatine and process until well combined. Fold in cream.
Turn out into prepared pan, smoothing the top. Refrigerate for several hours until set.
Cut, serve & enjoy!