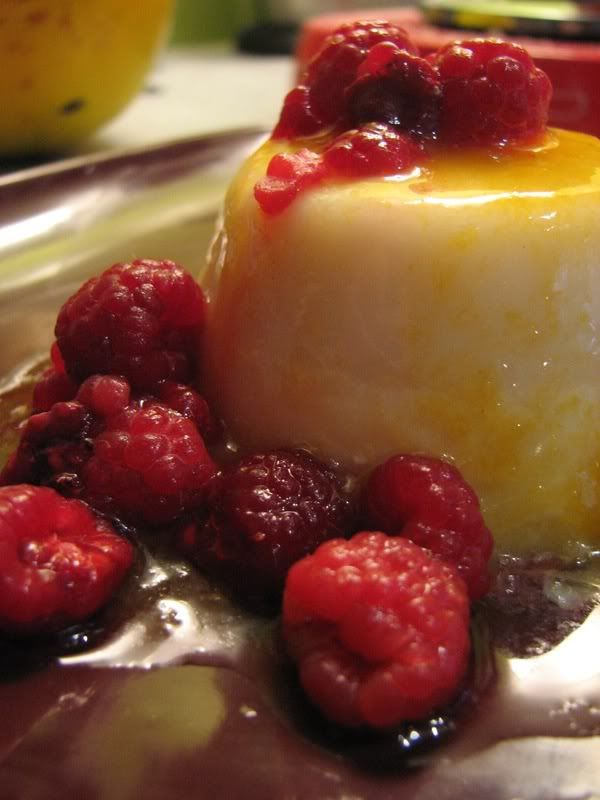 A new dessert for me, panna cotta is something I've been wanting to try for a long time. Having never eaten, let alone made, panna cotta, I braced myself for what could be a disaster.
I needn't have worried; panna cotta is unbelievably easy to make.
I present to you...
...vanilla panna cotta with raspberries and passionfruit puree.
Ingredients:
300ml double cream
100ml milk
1/2 tablespoon gelatine
1 tsp vanilla essence
2 tablespoons caster sugar
Method:
Sprinkle gelatine over milk in a small saucepan off heat. Leave for 10 minutes to let the gelatine become spongy. Simmer gently over low heat until gelatine dissolved. Add cream, sugar and vanilla and heat until melted and smooth. Pour into moulds (metal ones are best if turning out onto a plate as it could be difficult turning out from a ceramic ramekin) and refrigerate for at least three hours or until set.
Turn out onto plates and pour passionfruit pulp over. Garnish with raspberries.
This recipe makes enough for four small moulds. Double the quantity will yield six large moulds.