Hi everyone!
Sorry for my absence, but I've been busy moving house...but obviously not busy enough to make cake, cake and more cake!
I'll start with the chocolate cupcakes I made last weekend - they were topped with peppermint buttercream. Sounds pretty run of the mill...so I jazzed them up a little by piping some cool icing on top! This two toned effect is achieved by shoving one colour down the side of a piping bag, then shoving a contrasting colour down the other side. Pipe out until you see both colours coming through, and hey presto! Wonderfully interesting icing!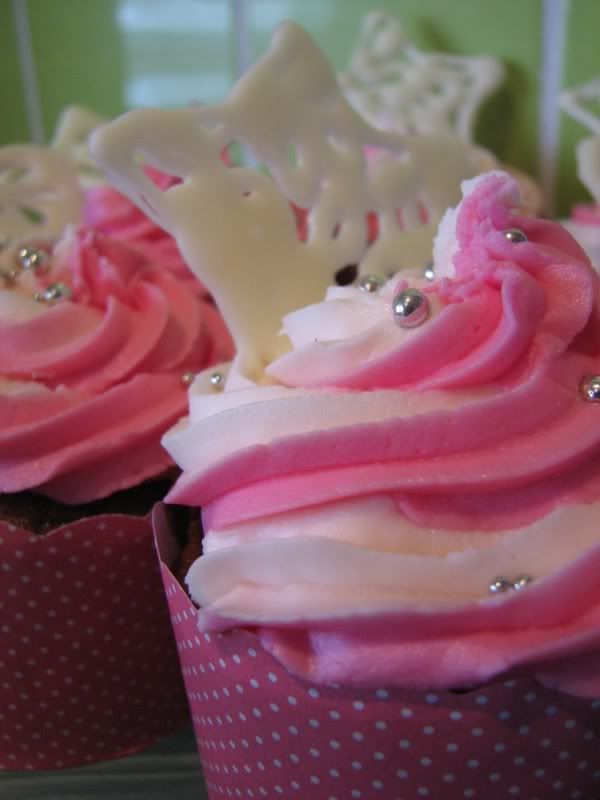 It was also my mum's birthday last weekend. Unfortunately we were too busy moving house for us to see her on the big day, so she trekked up from Ocean Grove during the week to see us. I decided a mini cake (remember my comical mini cake tin?) was in order since there were only three of us dining that evening.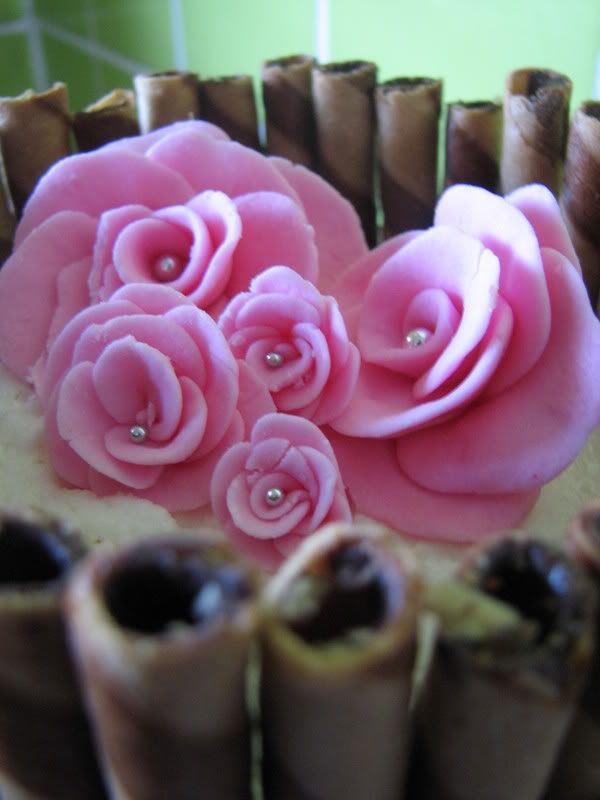 It's a chocolate cake topped with peppermint buttercream and sugarpaste roses (remember those??) I got some chocolate wafers, chopped them in half and lined the cake with them. I secured this creation with some pretty ribbon and whacked a candle on top. Instant pretty. Mum loved it. Here she is, looking cute: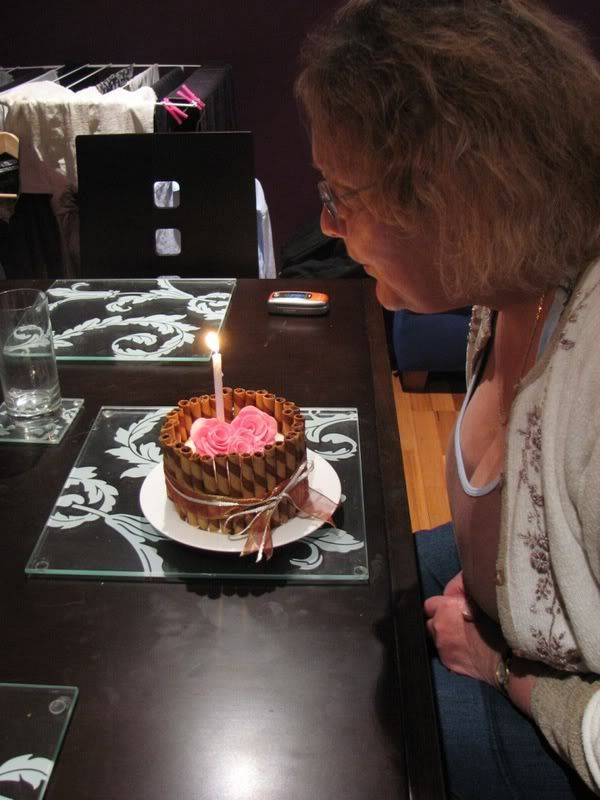 Then it was my sister's birthday. It just never stops, does it? This was a pretty important birthday though - the big 18. I volunteered months ago to make her cake and was pretty confident...until I had my first baking disaster. Typical. I am still getting used to my new oven (they say you 'know your oven'...yep, it's true!) so I wound up with a cake that was burnt on the outside and raw on the inside. I almost cried. So I was up until 2.30am cooking a second cake and making a start on the decorations. I was so stressed about it I couldn't sleep and was up again at 6.30am to continue decorating. Here are the results:
The stars on wire are fondant with gum tragacanth added (gum trag is a powder you can buy from a cake supply store - you only need a smidge). This combination forms pastillage. The gum trag hardens the fondant so the stars don't get damaged/lose their shape/flop over.
The top tier (mini cake tin strikes again!) is covered in fondant and decorated with fondant stars, silver cachous and little pastillage blossoms.
The bottom tier is covered in milk chocolate ganache and chocolate and vanilla buttercream. It is surrounded by a milk chocolate polka dot collar.
I was stoked that my piping doesn't completely suck - thankfully the 'Happy 18th Bec' is legible! I used stiff chocolate buttercream to ensure that the lettering didn't run. I decorated the cake board with some extra pasillage shapes and silver cachous.
Now, the tricky bit was getting the cake to survive the 1 1/2 hour trip to Ballarat for the party. We had to drive the whole way with the air con on full, and I almost got hypothermia, but we got there. WOOHOO!
I got home today and realised I had made about 500 litres of ganache (well...maybe not that much, but certainly enough to feed a small nation) so I decided to make some chocolate cupcakes to put the ganache to good use.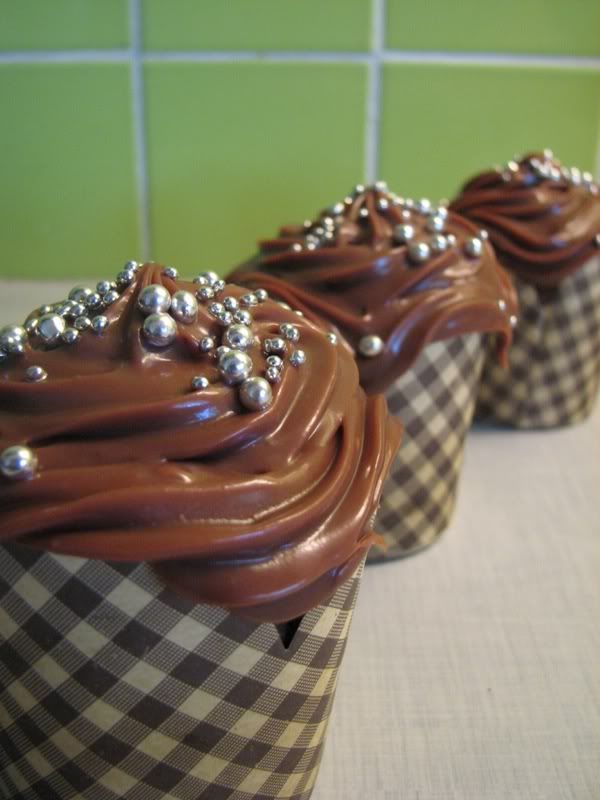 I would recommend that you make shallow cupcakes if you are piping ganache on as the ganache doesn't hold its shape well and may slop down the sides of the cupcake liner.
Oh and I have discovered that Safeway/Woolies homebrand cocoa completely whoops Cadbury cocoa. It is a much darker cocoa which produces a rich, dark cake. Absolutely beautiful - and heaps cheaper than Cadbury too.
Only four weeks until Christmas - stay tuned for copious amounts of Christmas cupcakes!