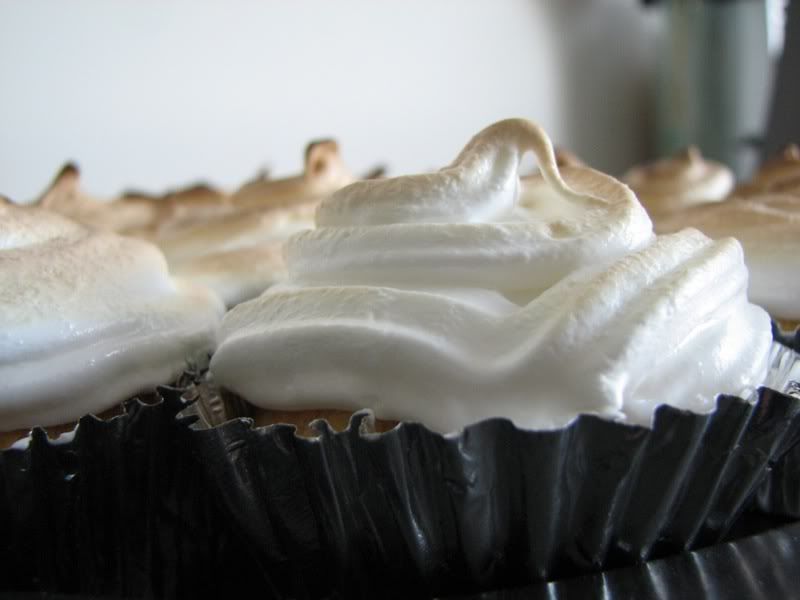 Everyone loves lemon meringue pie...so what about lemon meringue cupcakes? These delicious cakes have a zesty lemon curd filling and are topped with a fluffy meringue swirl.
Start by making the lemon curd. In a bowl sitting on top of a simmering saucepan of water, combine four egg yolks with 40ml fresh lemon juice, 2 tsp lemon zest and 3/4 cup caster sugar. Keep stirring until it thickens slightly and will coat the spoon. Remove from heat, cover with plastic wrap and leave in the fridge until cool.
I added 20ml of fresh lemon juice to the
Vanilla Cupcake recipe
and baked as normal. I actually used bigger patty pans for this recipe (partly because I seem to have misplaced my small white ones and partly because this recipe needs a higher cake) so I only got 17 cupcakes out of the mixture instead of the usual 24.
When the cupcakes have cooled slightly, use a paring knife to cut a hole 2-3cm wide on the top of the cupcake. Discard the tops and fill the holes with lemon curd.
To make the meringue, I beat four egg whites until they formed stiff peaks. I slowly folded 1 cup caster sugar and 1/2 tsp cream of tartar into the mix. I then piped the meringue on top of the cupcakes and put them under the grill for a couple of minutes. A kitchen torch would have been a lot more effective...but that's still on my wishlist :)
This lot are for the guys at work tomorrow - so I'll come back with a review from them tomorrow!
UPDATE:
Well, I couldn't very well send these off to work without verifying they taste alright...so I split one with Justin. We have both confirmed that these cupcakes are AMAZING and they taste just like lemon meringue pie! Mmmm...
I do apologise for the crappy pic...it's hard to make a massacred cupcake look pretty *lol!*